Shared from "TCEQ" Texas Commission on Eviromental Quality at https://www.tceq.texas.gov/drinkingwater/cross-connection
How Cross Connection and Backflow Can Lead to Contaminated Water
It really happened in Texas:
While mixing a batch of pesticide, a worker pushed a garden hose into the tank until it touched the bottom.
Nearby, city utility workers opened a flush valve, releasing a large flow of water from a water main.
Where the worker was mixing the pesticide, the water pressure dropped, and the flow in the hose reversed. Water and pesticides flowed from the pesticide tank back through the hose and into the water lines of the residence.
Luckily, this is where it stopped: The worker mixing the pesticide realized the danger and alerted the utility workers, who closed the flush valve before the contamination reached the city's distribution line. Still, good water and time were wasted:
To remove the pesticide from the water lines of the customer, utility workers flushed those lines.
In case the water main had been contaminated, the utility workers had to flush the city's distribution line, too.
Until testing showed authorities that the city's water was safe, they warned customers in the area not to drink it.
As shown by the case histories of backflow incidents
maintained by the backflow-prevention education program of the University of Florida's TREEO Center, not all cases of cross connection and backflow end so smoothly.
Definitions
cross connection

a physical connection between drinkable water and a liquid or gas that could make the water unsafe to drink (wherever there is a cross connection, there is a potential threat to public health from the liquid or gas contaminants)

backflow

water flowing opposite to its intended direction, either from a loss of pressure in the supply lines or an increase in pressure on the customer's side (in either of these situations, if any affected customer's pipes include a cross connection, contaminants could be drawn through the cross connection into that customer's pipes—and, if the backflow continues, perhaps even into the water mains)
Your Role as a Water Customer
By taking steps to control cross connections and prevent the possibility of backflow at your home, you will help to protect the public water supply and ensure that your family continues to enjoy safe drinking water. Garden hoses and irrigation systems are common concerns, but there are other common residential sources of cross connections, too.
Garden Hoses and Backflow
The garden hose is the most common cross connection. Each of these common uses of a garden hose sets up a cross connection:
forcing it into a clogged gutter, downspout, or sewer pipe to flush out the clog
connecting it directly to a hose-end sprayer to apply pesticide or fertilizer to your yard
connecting it to a soap-and-brush attachment to wash your car, boat, or siding
letting the end of the hose lie in a puddle or pool of water on the ground
No doubt you can think of other examples. In each of these cases, if backflow happens, your household's water lines could be contaminated. Depending on how long the backflow event lasts, the contamination could spread to the public drinking water system. Fortunately, there are two inexpensive ways to solve this problem:
Make sure that the end of your garden hose is never submerged in or connected to a nonpotable substance. This solution is free, but not highly reliable. Can you always be this careful?
Install a hose bibb vacuum breaker on each of your outside faucets. These inexpensive devices are designed to allow water to flow in only one direction. You can find them at most home supply stores and through plumbing suppliers. Before you use a hose-end sprayer, you should first install a hose bibb vacuum breaker at the faucet.
Irrigation Systems and Backflow
As a homeowner, you may install and maintain your own irrigation system, but it's still important to have a suitable backflow prevention assembly (BPA) in place and to be sure that it works properly. Here are a few ways you can do just that:
Hire a licensed irrigator.
If you install your own system, have a licensed BPA tester confirm that the BPA is installed and operating properly.
TCEQ requires you to have a licensed BPA tester check the BPA when it is installed on your irrigation system. Your water provider may have adopted additional codes or regulations which require an annual test of the BPA on your irrigation system.
The health and safety of our customers and employees is a top priority of the Mustang Valley WSC board and management. Below are a list of resources where you can find factual information on...


When temperatures are consistently at or below freezing:
If you have pipes that are vulnerable to freezing, allow a small trickle of water to run overnight to keep pipes from freezing. The...
It really happened in Texas:
While mixing a batch of pesticide, a worker pushed a garden hose into the tank until it touched the bottom.
Nearby, city utility workers opened a flush valve,...
This rehab project will be simple and you may not even notice it; however, the staff wants you to know that we continue to work diligently to provide you the best water possible. In late April the...
Tank 1 is getting a facelift! Preparation work is already underway with the installation of a temporary tank. No service interruption is expected while the tank is being refurbished, and in...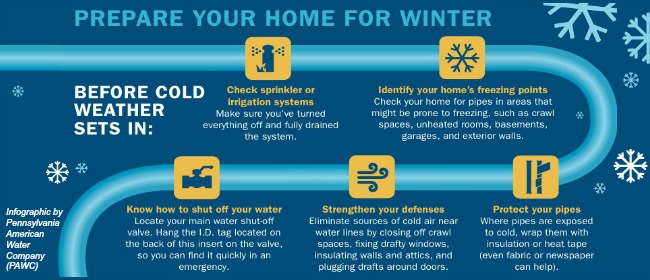 "By failing to prepare you are preparing to fail."
Benjamin Franklin
I've done it and you probably have, too. No, this is not a compliment. Instead, it is admonishment born of an all too recent...
While nationally the water-borne illnesses have been trending upward, Michigan has seen a nearly 30% increase in legionella from last year.
Mustang Valley Water works diligently to keep your...
2018 Annual Meeting Set for April 16th
The 2018 Annual Meeting will be held at the Cranfills Gap Community Center on Monday, April 16. Members will have the opportunity to vote on two board...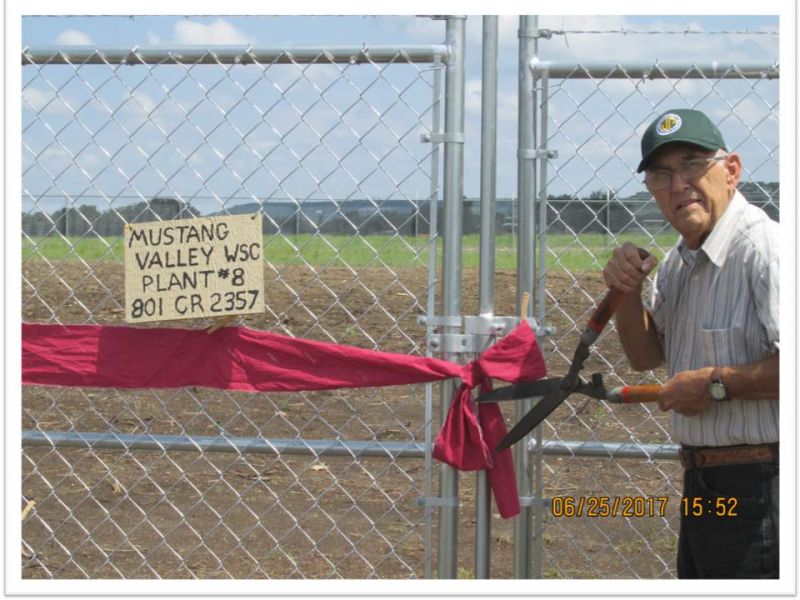 MVWSC has been working diligently on a big project over in the Meridian area. This new 1 acre site will boost the pressure for members being serviced by Well 2 northwest of the town.
On...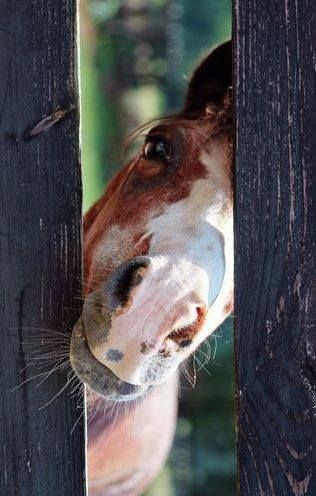 Mustang Valley Water's distribution system is a gravity system. The water is pumped from underground to a tower/tank. When a customer turns on the tap, earth's gravity causes the water to flow...
Cranfills Gap and Mustang may be small communities, but they are home to an icon as well-known as Fort Worth. Ruth Tucker has retired after 41 years of service to Mustang Valley Water and to her...
After 41 years of caring for Mustang Valley Water's members and staff, the Queen of The Gap is retiring. Frankly, we don't understand it; she's only 83 years young!
WE ARE COMING TOGETHER to...
"The Water Lady"
Cranfills Gap and Mustang may be small communities, but they are home to an icon the size of Fort Worth, who was recently honored for her 40 years of service to Mustang Valley...
We are excited to announce that our new website has launched and includes all the information our community needs related to their water service. Check back often, as we will be adding...